Your Premier Choice for Howell Irrigation Experts & Related Landscaping Services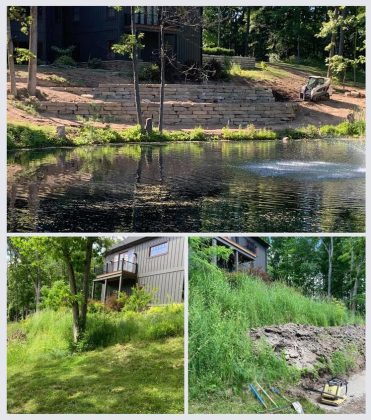 When you are looking for a premier choice for Howell irrigation experts and related landscaping services then you need to know you have someone to count on. At Rainmaker Irrigation our focus is offering superior customer service with a careful attention to detail. As a local family owned and operated company we value each and every one of our customers.
We rely heavily upon referrals and repeat business so it has to be in our best interest to take the best care possible of our customers. Our focus is to offer the best in workmanship, products, customer service and affordable pricing. Our goal is to help each client create the ultimate in yard restoration.
We continually further our education in order to stay abreast of and be able to offer the latest in irrigation technology and water conservation. As part of our commitment to customer care we also offer a 5 year transferrable warranty which is one of the longest in the industry. We look forward having the opportunity to work with you in order to give you a lawn so stunning your neighbors will be green with envy.
Landscaping & Maintenance
Irrigation Experts
Of course part of our expertise is to focus on being the best Howell irrigation experts. The best way to improve upon your lawn is to let professionals install this type of system. We service and install all types of commercial and residential irrigation systems. We are able to offer customers an efficient well designed irrigation system using the latest in water conservation techniques and cost saving methods.
Hand held hose watering is time consuming and not worth the effort. Sprinklers are not exact and lead to water runoff and missed spots that end up being brown.
When the cold weather rolls around we can also take care of services for winterizing your irrigation system as well, if this is not done properly it can lead to an expensive fix later.
Landscaping Design
Another method to use to improve the exterior of your home is landscaping design. At Rainmaker Irrigation we have all the services you need in order to take care of improving upon your lawn. Whether you have an exact idea of what you want as far as your landscaping or need professional creative guidance, we can take care of that for you. This includes the option for landscape lighting.
Or if you are working with a new lawn we can take care of premium sod placement or hydroseeding. Having problems with flooding or excess water moving towards the foundation of your home? Then let us work with you to design and install drainage trenching. And if your home or business needs regular care we can also take care of property management for you.
Seasonal Maintenance
When the weather turns cooler we will be there for you too. We offer important seasonal maintenance jobs as well. For one thing we can take care of snow plowing and salting This is important for being able to be sure that your property is safe and that you can continue on your daily routine. For the best service in snow removal and deicing you can count on us.
Rainmaker Irrigation is also the team to trust for all things related to seasonal cleanup in fall and spring. Why is this important? For one thing you want your home to look nice and for people to notice your holiday decorations and not your collection of dead and decaying leaves. And in the spring you want to give your lawn and flowers a chance to grow without having a layer of debris suppressing this growth.
Fall Cleanup
When the leaves start to fall the fire hazard increases. We can get your yard cleaned up from leaves, twigs, and debris so you can have a safer yard and landscape during the fall season. Rainmaker Irrigation is your go-to company for your fall clean-up jobs.
We Work With These Trusted Brands





Snow Clearing & Salting
The bottom line is that whatever it takes to keep your residential or commercial property looking its best Rainmaker Irrigation can take care of that for you. Contact us today so we can get started.
Irrigation
Irrigation Winterization
Landscaping
Landscape Lighting
Premium Sod & Hydroseeding
Drainage Trenching
Property Maintenance
Seasonal Cleanup
Snow Plowing & Salting
---
Latest Projects
---
Recent Articles

If you are looking for a professional irrigation company in the Howell area please give us a call at 734-564-1373 or complete our online form.