Pinckney Irrigation Experts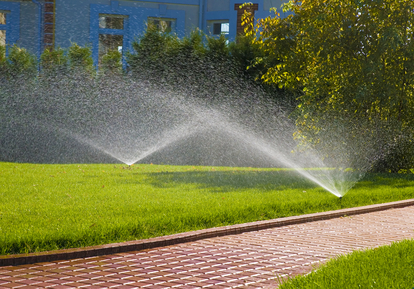 Stop making the search for Pinckney irrigation experts more complicated than it needs to be. You have already found the perfect team right here at Rainmaker Irrigation. Established in 2001 our focus from day one has been to offer the best in customer service with a careful attention to detail. And that's not just something we claim.
As a local, family owned and operated company we are serving our fellow community members each time we take on a new job. And with a business that thrives from repeats and referrals it is of course important to make sure each of our customers is 100% satisfied. We are able to make this possible by offering the best in handiwork, products and affordable pricing as well. It's why we also make it a point for each member here to get continuing education and for us to offer the latest in irrigation technology and water conservation.
Professional Irrigation Services in Pinckney
So you of course can't mention this area without mentioning the famous tourist spot Hell, MI. So while this area may have become known for that, locals know it is actually much more like Heaven here. Of course we tend to agree. And we look forward to each opportunity we get to come out and take care of more professional irrigation services in Pinckney.
It's a small town here but still plenty to do. Parades and festivals seem to be happening all year. Because this is a place that loves to celebrate and the locals are jovial. And for anyone who has not yet had the fortune of visiting here, there's a lot more going on than just the famous tourist spot.
Pinckney Landscaping Services
We want to help you make sure the outside of your home looks as impressive as the inside. That's is why we put our heart and soul into providing you with the best service for our Pinckney landscaping services. And why we work with well known manufacturers like Rid-o-Rust, Rainbird, American Hydro Systems and Vista Lighting.
Pinckney Snow Removal, Salting & Other Seasonal Services
Once the summer packs up for the year we have still got you taken care of. So we provide local with services like Pinckney snow removal, salting and other seasonal services. This includes seasonal cleanups in order to make your home look its best all year long.
What's the point of putting up elaborate holiday decorations if all anyone will notice is your decaying collection of dead leaves? We can get started as your Pinckney irrigation experts but will quickly show you what else we can do for you.
What Pinckney Customers Say About Us
"We hired Brandon and his fabulous crew to install mulch to our garden. We have fairly extensive landscaping with many, many plants and flowers that they had to install around. The care they took to get the mulch around the plantings was amazing. We have had mulch done in our yard for 20 years now and have never seen the level of care as displayed by Rainmaker. Very impressive work making our yard look gorgeous. I am planning on hiring them for more work next year. I would highly recommend Rainmaker! We are some very happy customers. Great work, great work ethic, fair prices and great crew."

–Ms. Kathleen B. Pinckney, MI | Rated: 5/5
---
"Rainmaker Irrigation L.L.C. is absolutely THE BEST in the business. Lawn cutting and trimming,home irrigation sprinkler specialist, snow plowing,etc. Complete professionalism including attention to detail. Definitely a 5 star rating! I would obviously recommend owner Brandon Finch and great staff for any of your landscaping projects. L.J.Marriott-Pinckney MI."

–Ms. Leslie M. Pinckney, MI | Rated: 5/5
---
Recent Articles
How You Will Benefit From Professional Lawn Aeration

One of the best things that you can do for your yard is to schedule your lawn aeration. This is the method used to break up the surface crust of your yard in order to enable oxygen, water and nutrients to make their way all the way down to the roots. Over time, your…

Read More

Hydroseeding vs. Premium Sod FAQ

When you need a new lawn or want to add turf to certain areas, you will want to know the differences between hydroseeding and laying sod. Both have advantages. In some cases, sod would not be appropriate. For instance, if you have a lot of land to cover then it can get really expensive to…

Read More

---
If you are looking for irrigation experts in the Pinckney area please give us a call at 734-564-1373 or complete our online form.