Important Reasons to Get a Lawn Aeration
---
---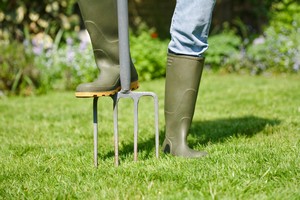 A beautiful lawn makes for a beautiful home, and to keep your lawn as beautiful as can be, you need to keep it as healthy as can be. If you find that your Howell home's lawn never seems to enjoy the best health and beauty, you might need to invest in professional aeration services.
Just why should you get aeration services for your lawn? Simple: This service provides a number of great benefits that will ensure your lawn will look its best by enjoying the best possible health. You can learn all the reasons you should get an aeration by reading on. After all, this service will help . . .
To Improve Turf Health
Your lawn needs to take in plenty of water and nutrients in order to grow beautiful and healthy. Of course, your lawn may not be able to take in those necessary nutrients on its own. Sometimes, you may need to get professional aeration work to allow that water and all else to get deep down into its root work and improve your turf's health.
To Reduce Soil Compaction
Soil compaction can occur for a number of reasons: foot traffic, heavy installations being moved across your lawn, etc. Should soil compaction occur, you'll want to get it resolved with aeration at once. Otherwise, you could find yourself dealing with a number of problems. Just a few of the problems that soil compaction can cause includes the following:
Soil won't take in as much water
Root systems won't grow as large
Lawn won't look as healthy
To Prevent Standing Water on Lawn
If your lawn's soil is too compacted, heavy rainfall might prove to be a problem. After all, compacted soil will cause large puddles to build up after a rain. By reducing soil compaction with aeration services, you can prevent this problem — which will also help you to prevent the problems that puddling can lead to:
Damaged plants and lawn
Weakened root systems
Foundational damages
Get Professional Aeration Services from our Howell Area Irrigation Company
To get your lawn in the healthiest and most beautiful condition, you need to get quality aeration work handled. For the highest-quality work, look to none other than Rainmaker Irrigation. Our Howell area irrigation company will work hard to provide the best possible results for all your aeration needs.
If you are looking for an Irrigation Company in the Howell area, please call Rainmaker Irrigation, LLC at 734-564-1373 or fill out our online request form.