Drainage Trenching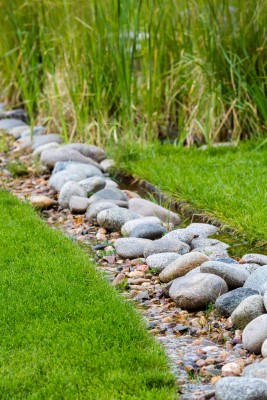 If you are in the market for Howell drainage trenching then it is probably a service you need to take care of relatively soon. This type of installation is usually because you are already experiencing flooding or related problems. This can be very important for taking care of issues around your home and property.
This is especially true if you are having any concerns with water that could be running towards the foundation of your home in the event of flooding, overspill or backup. This is a common problem in areas like Howell where melting snow can also cause problems when it has nowhere to go. Letting a problem like this go for too long can eventually lead to much worse problems.
If you are not yet familiar with this type of drainage system you should know a bit about what it is. You have, in fact, seen these types of drains. They are commonly added to the end of driveways and are a drain with a long rectangular grate system over top. However they may also be put elsewhere on a property.
Drainage Trenching Services
When it comes to finding the most reliable experts for your drainage trenching services in Howell then you need to know the name to call on is Rainmaker Irrigation. We have the training, skills and knowledge necessary to take care of this type of design and professional installation. We can inspect your property and determine what type of system to put into place.
Another option you may need is for a drainage trench around your home. This is often a system set up that does not utilize a grate but stones instead. This is more commonly referred to as a French drain. We can help to determine what would work for your property and will discuss the options with you.
Howell Drainage Trenching
Taking care of your home means making sure you take care of important details like getting a Howell drain in place. Don't keep putting off until another day what we can take care of for you today. So give us a call so we can get started.
Irrigation Experts in Howell
Of course we do more than drainage at Rainmaker Irrigation. One of the other important services we offer is irrigation service in Howell. For whatever it takes to improve the exterior of your home we want to be the team you come to trust in. But we cannot get started until you get in touch with us. Stop putting off important service like Howell drainage trenching that we can cross off your to do list for you.
Recent Articles on Drainage Trenching
We will be the first to admit one of the more common questions we get is simply – why bother with professional Howell irrigation services? This is one of those topics that anyone who has already used professional landscaping can completely understand the benefits. Read More

As a Howell property owner, you have an obligation to ensure that your property is properly maintained. One of the most difficult tasks to stay on top of is lawn maintenance. At your residence, your lawn is critical to your family's enjoyment of your outdoor living spaces.Read More
If you are looking for drainage trenching experts in the Howell area please give us a call at 734-564-1373 or complete our online form.