South Lyon Irrigation Experts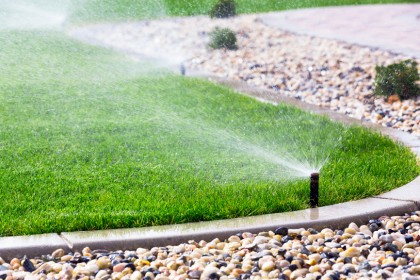 Want to know the truth about South Lyon irrigation experts? The truth is that is Rainmaker Irrigation the top choice for this type of service and all related services. And you don't just have to take our word for it; simply ask around and you will hear the same answer time and time again.
Rainmaker Irrigation was established in 2001 but owner, Brandon Finch, has well over 20 years of hands on experience working in the industry. We are a local, family owned and operated business which means customer service has to be everything to us. We aren't just taking care of random clients; these are our friends, neighbors and fellow community members.
Of course we also rely on a large percent of referrals and repeat business. Business we can't earn unless we take care of the customers we have. Let us show you firsthand how our superior customer service really makes us stand out from the competition.
Professional Irrigation Services in South Lyon
Few places in the state (possible the country) are as unique as South Lyon. Where else can you find a place like McHattie Park and the Witch's Hat Depot Museum and Historic Village. This historic village is made up of six buildings – the earliest built in 1907. Plus this is also home to the annual Pumpkinfest festival.
And if you want a true understanding of how diverse the area is just consider the variety of famous people who have come from here. Doug Heffron, a standup comedian, Dave Brandon, a Former Athletic Director at the University of Michigan and Anita Cochran, a country music singer. This sums up why we like it here so much, too. And are always thrilled for the chance to be the top choice for professional irrigation services in South Lyon.
South Lyon Landscaping Services
We take great pride in offering the best South Lyon landscaping services. Which is why we make it a point for all the team members here to participate in ongoing education and to offer the latest in irrigation technology and water conservation. Now let us set an appointment to discuss with you all of the important tasks we can take care of for you.
South Lyon Snow Removal, Salting & Other Seasonal Services
Let's not neglect to take care of the other parts of the year. You can trust the Rainmaker Irrigation name for other tasks including South Lyon snow removal, salting and other seasonal services. For instance that professional grade irrigation we install for you – well you are going to want to trust in us to winterize it for you. The bottom line is that whatever you need from South Lyon irrigation experts we have got you covered.
Recent Articles
How Brighton Landscaping Improves Your Curb Appeal

Considering Brighton landscaping but not sure it is worth all the fuss? One of the most important things we tell homeowners is to think about what part of their home really makes the first impression. People get too caught up in thinking about how wonderful the interior of the home looks. In fact so much…

Read More

How You Will Benefit From Professional Lawn Aeration

One of the best things that you can do for your yard is to schedule your lawn aeration. This is the method used to break up the surface crust of your yard in order to enable oxygen, water and nutrients to make their way all the way down to the roots. Over time, your…

Read More

---
If you are looking for irrigation experts in the South Lyon area please give us a call at 734-564-1373 or complete our online form.