Landscape Lighting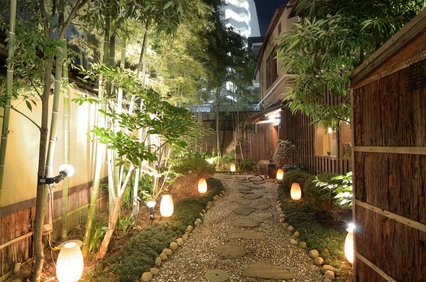 Howell landscape lighting is a great idea for so many reasons. The average homeowner who includes this as part of their property doesn't even consider some of the other great benefits. But the good news is that there are plenty.
Of course the obvious one is that your yard will look phenomenal. That well planned landscaping design our experts here at Rainmaker Irrigation put in place will get the notice it deserves day or night. Yet it also helps to highlight elements of your home that you may want highlighted. Of course the opposite is true as well.
Properly placed lighting will also help take focus away from aspects of your home or property you may not want noticed. Overall, it helps to create a stunning look and true ambiance instead of everything seeming less cohesive. We are expertly trained and skilled at creating just the right ambiance with the ideal choice in lighting.
Landscape Lighting Experts
When you rely on Rainmaker Irrigation as your landscape lighting experts you are going to love the end results. You can feel confident we will help design a layout that looks great but also includes added benefits. For one thing, this is also a great method to use in order to add safety to the outside of your home.
Keep walkways illuminated and your patio easy to maneuver around. This can also be important for places like your driveway or the pool. We can make sure your outdoor doesn't just look good but is functional as well.
Howell Landscape Lighting
Another huge benefit is the added level of security this brings. If someone with criminal intentions is looking for a place to break into or vandalize then they are going to be looking for an easy target. A well lit home is not going to be the best situation for this. So even in addition to a security system, proper landscape lighting is an important measure to take. In some cases that may include the use of motion sensor lighting.
Irrigation Experts in Howell
When it comes to making the exterior of your home look its very best you need to also consider irrigation experts in Howell. There is very little point in adding exterior lighting only to highlight a brown and ugly lawn. We can help make sure your lawn looks good enough to be the under the spotlight.
For all of your landscaping related service needs you need to know Rainmaker Irrigation is the name to trust in. So whether you need Howell landscape lighting, irrigation or any other related service then give us a call.

Recent Articles on Landscape Lighting
Most Common Landscape Lighting Mistakes To Avoid
Calling in irrigation experts to provide you with landscape lighting is a fine idea, as long as you both plan together a system that makes sense. Unfortunately, it's quite common for mistakes to be made. The average so-called professional is just interested in completing the job, getting paid, and moving on to the next client….
Understanding Landscape Lighting For Your Home Or Business
Landscape lighting design for your home or business is important if this is something that you are considering and, once you know more about it, it is most certainly something that you will want. What many people do not realize is all of the benefits you can expect from this service, as long as the layout is designed and installed by a true industry professional.Read More
If you are looking for landscape lighting experts in the Howell area please give us a call at 734-564-1373 or complete our online form.