High-Quality Hardscapes For Homes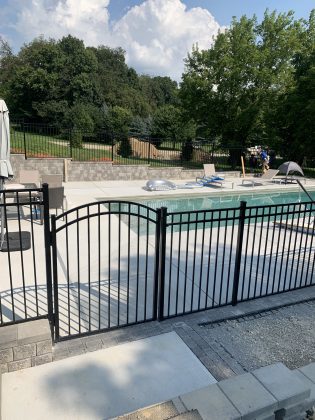 If your Howell property could use some extra style and functionality, Rainmaker Irrigation can help you out with our high-quality hardscaping services. Our top-notch landscaping company is here to help you create a custom hardscape design that offers years of beauty, value, and utility for your home. No matter what hardscape design you have in mind for your landscape, our goal is your total enjoyment of your outdoor spaces, and we'll do whatever it takes to help you accomplish this and more!
Feel free to call Rainmaker Irrigation today if you'd like to get started with a hardscaping project in Howell or the surrounding areas. We'd be happy to chat with you about your ideas and expectations so that you can have the custom design you genuinely want that also fits your budget.
Retaining Walls For Your Howell Home To Promote Soil Security
A garden can be a great addition to your Howell property. Not only will a garden bring extra beauty and a variety of flowers to your yard, but it will also give you a reason to step outside every day and get some sun. But to begin, you need to set up your garden to help it blossom and grow in the healthiest, most secure way possible, and one of the best installations you can get to do that is a retaining wall.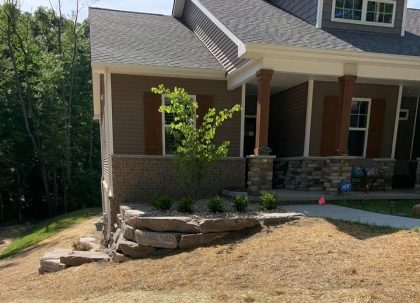 A retaining wall holds soil firmly and safely, allowing you to create a beautiful garden on a level surface in any terrain. Retaining walls will help avoid erosion, irrigation, and flooding to and from your garden while also making the most of the space you have. They also support soil laterally, providing you with different levels for your garden. So, you can keep your plants separate, safe, and healthy when needed, no matter how tight on space your garden might be. On top of all those great uses, a retaining wall looks great and can add value to your home since stone is a valuable and long-lasting material.
If you want a retaining wall so that you can enjoy a quality garden as well as all of the practical benefits of such an installation, call us at Rainmaker Irrigation. We have the skills and experience to provide you with a high-quality retaining wall at a great price.
Stone & Brick Pavers To Create Beautiful Walkways, Driveways, And More
A paver walkway will make your home in Howell pop with beauty and functionality while also providing you with an easy means of walking through your property and a lovely juxtaposition with your natural landscaping. And if you want to enjoy the most beautiful kind of walkway, get Unilock concrete or brick pavers. Coming in various designs and colors, these kinds of pavers will make any home stand out from the rest. That beauty combined with their durability and ease of maintenance makes pavers a compelling option when it comes time to install a new walkway — and more!
Pavers can also provide your property in Howell with beautiful driveways, pool decks, and patios. They are long-lasting and easy to maintain and repair while giving you an impactful curb appeal boost. Whether you need pavers for a walkway or a driveway, we have the know-how and resources to provide you with the best paver work out there. Please don't settle for less when it comes to your pavers. Get the best — and the best is Rainmaker Irrigation!
Latest Projects