Howell, MI Fall Cleanup Service For Landscape & Yard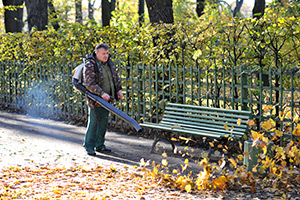 If you need a fall cleanup service in Howell or other nearby areas, Rainmaker Irrigation is here to help. We offer the type of service you can trust to be professional and thorough. If quality of service matters, call us for an estimate.
Our Howell fall cleanup service prepares your yard and landscape for the upcoming winter season. With leaves and debris accumulating during this time of year, removal becomes important before snowfall.
With fall cleanup service, you'll enjoy more benefits than just a nice looking landscape. As the old dead twigs, branches, leaves, and other foliage falls, it becomes a tripping hazard. It also becomes a fire hazard, which is not good to have near your cherished home.
Let us get your property cleaned up and maintained so it is in the best shape this fall season. Call today so we can provide you with a free estimate.
Our Howell Fall Season Cleanup Service
Landscape Beds – Debris and leaves need to be removed from the landscape beds to get them ready for the winter. This gets rid of any areas where insects can harbor over the winter. It also makes way for any fertilization that needs to take place in the fall.
Turf Areas – Instead of running over the leaves with a lawnmower, let us clean up the turf. As leaves are broken into tiny pieces, they embed within the roots of the grass where they obstruct growth. They also create mildew and mold problems which sicken the turf. For a healthy lawn, call us for fall cleanup service.
Satisfaction Guaranteed – When you choose us for your Howell fall cleanup service, you'll have a 100% satisfaction guarantee. You will also enjoy a free estimate prior to service.
Dead Branches, Twigs, & Leaves Pose Fire & Safety Hazards
Dead branches, twigs, and leaves are supreme fire hazards. As they accumulate on decks or near the home, they pose a safety hazard. Any dropped cigarette or grilling ember will ignite the debris.
Yard debris is also a great place for insects to hide and thrive. As professional landscapers, it's not uncommon for us to rake leaves and find hoards of insects multiplying within. Clean up the debris and there's no place for them to hide.
Recent Articles
Your lawn is one of the most important components that make up your home in the Howell area. So, you need to take steps to maintain your lawn as best you can. After all, a well-maintained lawn can provide some truly wonderful advantages for any home…
When the season changes to fall here in Howell, Michigan, a commercial landscape will need cleanup and maintenance. While leaves make a great organic mulch, they just don't belong on commercial properties and neither do dead tree branches or dying shrubbery. So fall cleanup service is a necessity for commercial properties….
If you are looking for fall cleanup service in the Howell area, please give us a call at 734-564-1373 or complete our online form.