Irrigation Services, Winterization & Startups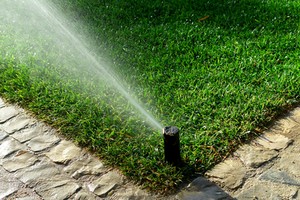 Part of the responsibility of having irrigation is taking care of professional level Howell irrigation winterization. The winters here in Michigan can of course get pretty rough but generally it is about making sure the system is prepped for steady cold temps for a prolonged period of time. Without this type of preparation your system could endure damages and end up not working in the spring, when you need it most. Improper winterization can also lead to expensive repairs.
All of this will help to ensure that, come springtime, your professional grade irrigation system is ready to be back up and running again. Don't waste time after the winter finding out you need repairs. Let our team of experts here at Rainmaker Irrigation take care of this important service for you.
Irrigation Winterization Services
Before that first freeze hits, you need to have your Howell irrigation winterization services taken care of. The problem is that the average homeowner may think this is the type of thing they can take care of on their own. Any remaining water, no matter how small an amount, poses a threat to your entire system.
This water will freeze and expand which can result in cracking. This can lead to the rupturing of pipe walls. In order to minimize the likelihood of freeze related damage you need to trust in the Rainmaker Irrigation experts to complete this chore for you.
Howell Irrigation Winterization
Because the task of Howell irrigation winterization is so important it is best to leave it to a trained and experienced professional. Slipping up on even one task just a little can have dire consequence on your entire system. Why take chances when all you have to do is make one call and let us take care of this for you. This can be the difference between a working or not working system come spring.
Spring Startups
Have our professionals startup your system each Spring to ensure it's working properly and adjusted correctly. It is important to trim around all sprinkler heads and valve boxes this can lengthen the life of the heads and ultimately save you water and money. We will program the timer to your preferred settings after discussing optimal water times for each type of zone/head based on our extensive product knowledge and experience.
Irrigation Service
With over 20 years of irrigation experience, we have serviced and installed all types of sprinkler systems. Our specialty is diagnosing and fixing any issues related to your sprinkler system. We offer backflow testing by certified master plumbers.
Recent Articles on Irrigation and Winterization
Anyone who has spent even a single winter here is probably aware of the importance of Fowlerville snow plowing. It can be hard to go about your regular daily routine when winter weather gets in the way.Read More

We will be the first to admit one of the more common questions we get is simply – why bother with professional Howell irrigation services? This is one of those topics that anyone who has already used professional landscaping can completely understand the benefits. Read More
If you are looking for irrigation experts in the Howell area please give us a call at 734-564-1373 or complete our online form.