Landscaping Services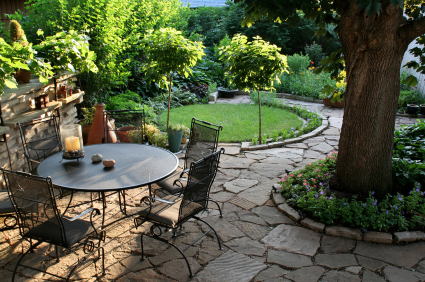 At Rainmaker Irrigation we take great pride in the professional level of Howell landscaping services we offer. Too many homeowners try to take care of this type of work themselves and then complain about how it just doesn't look the way they want. Not to mention this wastes so much of your valuable free time off.
Even worse, some people simply leave their landscaping to Mother Nature. Aside from the occasional lawn mowing they cross their fingers and hope the rest takes care of itself. Of course, anyone who has owned a home for any length of time knows this simply isn't going to work out, especially not long term.
So let the pros at Rainmaker Irrigation take care of some of the important services that go into making your home look as immaculate on the outside as it does on the inside. We can provide you with services like mowing, edging, sodding, flower planning, mulching, pruning, trimming and so much more. Contact us today so we can get started with a plan of action to renovate your yard.
Professional Landscapers
It's your yard so obviously we want it to look exactly the way you want it. At Rainmaker Irrigation we work with you to find out exactly what you want your lawn to look like. From there we can review the options available to you. As professional landscapers in Howell we only want to make sure you love the look you end up with.
As a local business we are committed to offering superior customer service. Our customers are also our friends, neighbors, and fellow community members. We rely heavily on referral and repeat business, too. So it is only in our best interest to make sure the customer is completely satisfied, each and every time.
Howell Landscaping
Hiring the perfect crew for your Howell landscaping is a smart idea if you want your home to look its best. We can even help inspire creativity if you are planning on including plants, flowers and other details to add more depth. So whether you have something in mind or don't have a clue we can help you completely transform the look of your lawn.
Irrigation Experts in Howell
One service we offer in relation to landscaping is irrigation. And we happen to be the most qualified irrigation experts in Howell and have been since first establishing our business in 2001. Our focus isn't just offering lawn services it is being there to help you totally renovate your yard.
Your yard is the first thing that people see when they see your home. Make sure the exterior has as much to offer as the interior. Contact us today for the very best in Howell landscaping services and more.
Recent Articles on Landscaping
As a Howell property owner, you have an obligation to ensure that your property is properly maintained. One of the most difficult tasks to stay on top of is lawn maintenance. At your residence, your lawn is critical to your family's enjoyment of your outdoor living spaces.Read More

Considering Brighton landscaping but not sure it is worth all the fuss? One of the most important things we tell homeowners is to think about what part of their home really makes the first impression. People get too caught up in thinking about how wonderful the interior of the home looks.Read More
If you are looking for landscaping experts in the Howell area please give us a call at 734-564-1373 or complete our online form.