Commercial Snow Plowing & Salting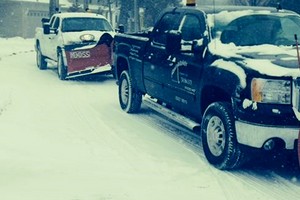 With the winters here comes the need for professional Howell commercial snow plowing and salting. Expert snow removal can be the difference between productivity and a wasted business day. It can be the difference between making conditions safe or leaving them to be completely hazardous.
At Rainmaker Irrigation we take care of this important task and can help to make sure even winter weather doesn't stand in the way of you doing business, in a safe manner. We can work with you to devise a plan of action for taking care of removing snow and ice from your sidewalks, parking lots and other areas. We stay ahead of the weather so we can have a good idea of when severe winter weather is approaching.
By doing so it means we already have a plan of action in place, even for situations that are more of a just in case. You can never be too careful when it comes to being prepared for this type of storm event. Don't be left out in the cold, literally. Let the Rainmaker Irrigation team take care of commercial winter cleanup for you.
Commercial Salting Services
Taking care of important tasks like salting services in Howell Michigan is crucial for safety. Iced walkways are not only a problem they can be a downright slip and fall hazard. Slip and falls create medical and legal headaches that your business can do without. In order to make sure you don't have to deal with this let the Rainmaker Irrigation pros handle this for you.
Salting is ideal for ice removal from areas like walkways, driveways, sidewalks and parking lots. Don't put yourself or others at risk; make sure you take the precautionary measures necessary to keep things as safe as possible. When winter weather strikes you down, let our crew fight back for you.
Irrigation Winterization in Howell Michigan
Don't forget, we also take care of irrigation winterization in Howell. Your irrigation system is crucial for bringing back that lush, green lawn once spring rolls around again. The problem is that without letting professionals take care of this task for you that system may not even be functioning when old man winter moves out.
Whatever your seasonal maintenance needs may be you can rely on the Rainmaker Irrigation team. For Howell snow plowing and salting we will be there when you need us most.
Why Use Rainmaker Irrigation for Commercial Snow Plowing & Salting?
Over 20 years experience
References upon request
Commercial snow plowing
Commercial salting services
Commercial sidewalk shoveling
Free estimates
Fully insured
Recent Articles on Snow Plowing
Anyone who has spent even a single winter here is probably aware of the importance of Fowlerville snow plowing. It can be hard to go about your regular daily routine when winter weather gets in the way.Read More
If you are looking for commercial snow plowing and salting experts in the Howell MI area please give us a call at 734-564-1373 or complete our online form.