Hydroseeding vs. Premium Sod FAQ
---
---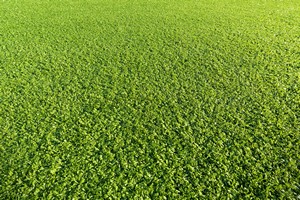 When you need a new lawn or want to add turf to certain areas, you will want to know the differences between hydroseeding and laying sod. Both have advantages. In some cases, sod would not be appropriate. For instance, if you have a lot of land to cover then it can get really expensive to lay down new turf, especially when using premium sod. So how do you know which is best for your particular situation?
Our Howell landscaping and irrigation company has been in the business of commercial and residential hydroseeding and premium turf applications since 2001. We recommend staying away from standard sod because it often easily dies off and isn't as resistant to disease. So we can tell you a few things about the differences between hydroseeding and premium sod. Here are some common questions and answers about both options that you may find useful.
Can You Hydro Seed Over An Existing Lawn?
There are times when an existing lawn has burned out or there are sections that become barren. Hydroseeding can be done on existing lawns instead of traditional overseeding. The slurry, or hydroseed solution, can be sprayed right over the existing turf. Heavy with fertilizer, minerals, organic mulch, and grass seed, the slurry delivers everything needed to turn a barren or patchy lawn around.
Cost Of Premium Sod vs. Hydroseeding
One thing to keep in mind when pricing sod is that a difficult yard can raise labor costs significantly. This would not raise labor costs for hydroseeding because the application would be relatively the same whether it's applied over an acre of dirt or an acre of patchy turf.
The cost of sod varies depending on where you live and what quality of sod you install. A 2,000 square foot yard economy sod in Howell ranges from $931 to $1,855. Premium sod should be figured about twice that. Labor costs will of course vary.
Hydroseed will typically cost less than sod. The labor costs are not as high because the application is much quicker. The average cost to hydroseed 2,000 square foot of land is about $360. Remember that the prices will vary by location and the product cost. If you are in the Howell, Michigan area, Rainmaker Irrigation can provide an estimate and consultation for both hydroseeding and premium sod so you can compare the differences.
How Fast Does Sod Start Growing vs. Hydroseeding?
Hydroseed will grow much faster than sod. The root system of sod has to grow into the soil before it will be healthy enough to grow. The hydroseed mix is sprayed onto the topsoil and will grow into a new lawn within a few weeks if the season and climate are right. Hydroseed germinates faster than raw seeds because the solution contains nutrients and water-holding mulch particles. Sod can take up to six weeks to establish a healthy, deep root system.
If you would like to learn more about Hydroseeding & Premium Sod in Howell, Michigan, please call Rainmaker Irrigation at 734-564-1373 or complete our online form.