Most Common Landscape Lighting Mistakes To Avoid
---
---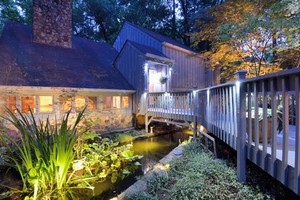 Calling in irrigation experts to provide you with landscape lighting is a fine idea, as long as you both plan together a system that makes sense. Unfortunately, it's quite common for mistakes to be made.
The average so-called professional is just interested in completing the job, getting paid, and moving on to the next client. You need a seasoned industry expert who can offer suggestions so your final layout makes good sense.
Ultimately, the decision is yours but you should receive professional guidance when planning lighting placement. Having lights in place is better than not having them, but poor placement can cause problems, and you won't even realize it until they're in place.
Beauty and safety are the main goals, and partnering with an expert should make this possible. However, it's still a good idea to have some basic knowledge of mistakes people make so you can learn to avoid them.
Landscape Lighting Blunders You'd Rather Not Repeat
If you're going to invest the time, effort, and money into adding landscape lighting to your home, make sure you love the final results. The best way to make this possible is avoid errors homeowners before you have made.
Bringing attention to what you'd rather not see
The right lighting will highlight features of your property that you want noticed, even once the sun sets. Unfortunately, without proper planning, lighting can end up showcasing the blemishes or features of your property you'd rather not make a focal point.
Too much of a good thing
It's important to have a sufficient amount of light otherwise, what's the point? However, a common mistake homeowners make is adding too much light. This can overtake the property and even make it uncomfortable living inside the home. Who wants to be blinded while trying to move around inside your own home?
Not enough lighting
On the other hand, if you're going to install lights, don't end up with dark shadows and corners. Proper lighting is supposed to help deter criminal activity. Create shadows and you'll have the opposite issue and actually produce the perfect dark nooks for someone to hide in.
Got LED?
LED lighting isn't just the future of lighting, it's already here. There's simply no reason not to use LED when installing lighting of any kind. It's bright, clean, and energy-efficient. It can work in extreme temperatures, high or low, and withstand serious weather conditions. Simply put, when it comes to lighting, it's just about perfect. So, before you commit to any other type of lighting for your outdoor lights, make sure you consider all of the perks of using LED.
For the best results, including professional advice, call the Howell irrigation experts at Rainmaker Irrigation, LLC.
If you are looking for an Irrigation Company in the Howell area, please call Rainmaker Irrigation, LLC at 734-564-1373 or fill out our online request form.