5 Landscaping Tips for Building a New Home: Save Time and Money During the Construction Process
---
---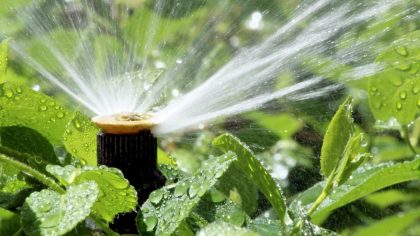 Building a new home? Simple tips from a landscaper to save time and money during the construction process.    
Does your new home have well water? Talk with your builder or well company regarding upgrading the well pump or looking at a constant pressure option!  Usually, it's a fairly nominal cost compared to total build, and you will be glad you did it once the new sod or seed is in and you're running the sprinklers 2-3 times/day to finally get that nice green grass growing in your beautiful new yard.  This will save unnecessary wear and tear on the well pump and on total watering time.  Questions on how many gallons per minute or psi is required for a new sprinkler system? Give us a call today to speak with one of our irrigation and landscape professionals.
There are a few things you will never regret doing in life; like taking a vacation or installing sleeves before your concrete is poured! There are a variety of reasons why you made need access under the concrete in the future (i.e., drainage, irrigation, landscape lighting, etc.).  So not only did you just pay for this beautiful new concrete to be poured but now you have to pay for a driveway and/or sidewalk bore under your new concrete!  Easy solution, request that the builder or cement company install a PVC sleeve under the sidewalk and/or driveway before pouring the concrete and (most importantly) mark the location of the sleeves for future access.  Where and what size PVC? Give us a call today to speak with one of our irrigation and landscape professionals.
You have your new concrete installed with the PVC sleeving for future use, yay!  But is it properly backfilled?  We arrive at so many new construction homes to give estimates on new landscaping and irrigation and immediately notice the expensive new concrete eroding away, yikes!  Make sure your builder or contractor is properly backfilling any newly installed concrete to prevent erosion and save you time and $$!
Let's talk dirt! Soil conditions are a very important component in establishing a new lawn. The grade your builder leaves your with directly impacts the price of your grading and grass when landscapers are providing estimates!  Did your builder strip and sell all the good topsoil from your site before building and now you are left with all clay or sand? Are there a lot of rocks and debris left in the yard that will have to be addressed before the lawn goes in? In many instances, homeowners end up having to pay for topsoil to be brought in and spread before grass can be established.  Any additional grading or topsoil that can be provided by the builder will help your future landscaping costs.
Lastly, don't wait until the spring/summer when contractors are at their busiest to call for an estimate.  An experienced, reputable landscaper or irrigation professional is usually working off a wait list before the snow has even melted. Contact us in the Winter or Fall months, if possible, even if your build is not complete.  We like to get involved early and it allows the homeowner additional time to make decisions.
If you are looking for an irrigation company in the Howell area, please call Rainmaker Irrigation, LLC at 734-564-1373 or fill out our online request form.