Oakland County Irrigation Company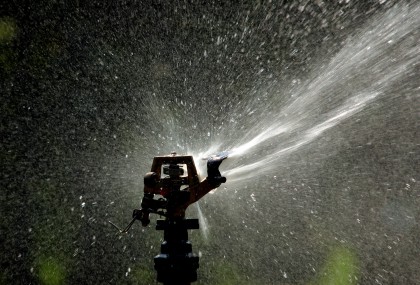 RainMaker Irrigation, LLC. began back in 2001. Since then, we have grown as our Oakland County, MI  irrigation company has become the knowledgeable experts to call on for all types of terrific outdoor services including seasonal cleanups. You'll be amazed at how perfect your yard looks whenever we're through with it.
Our landscape crew does seasonal cleanup that includes fall and spring cleanup. Our cleanups start in the backyard where we remove any debris left behind from winter. You won't have any hazards in your yard when were through.
If your focus is on spring cleaning this year, inside of your home, then you should hire experts who are experienced in cleaning up the outside as well. We can help to make your outdoors healthier and appealing.
Most of our customers come to us because they feel there is no hope for their property after a harsh winter or extreme summer. Extreme temperatures are known to kill off trees, grass, and flower beds. We can remove the debris to your composting area keeping those areas growing healthily.
We can improve the look of your landscaping. Our landscapers in Oakland County take all jobs seriously big and small. Let us know what you need done and we'll do the rest. You can trust and depend on our landscapers to be there whenever you need us.
Oakland County Irrigation Services
RainMaker Irrigation, LLC. can turn your dull landscaping into something more exciting through an irrigation system. We have many different types of irrigation system services to take advantage of including:
System management
Leak repairs
Nozzle inspection
Replacement program
You'll never feel like there's no hope for your landscaping as long as we're around. Call us today and let our professional landscapers make your outdoors appealing to everyone on the block and in the entire neighborhood.
Oakland County Landscaping Services
Residential Oakland County landscaping services can make homes healthier places to be outdoors. We offer professional landscaping services to the following towns who are able to produce a return investment on their properties:
Troy
Pontiac
Auburn Hills
Bloomfield Hills
Novi
No matter what area you live, just know that we're the company that you can trust. We have been making yards beautiful since 2001 and want to makes yours. So don't try and take care of your own landscaping.
Let our Oakland County irrigation experts handle it. You'll feel better about the fate of your property, we can guarantee that as we can develop a plan for your landscaping that will keep it healthier for years to come.
Recent Articles
Smart Irrigation Systems: A Greener Idea

If you're a typical homeowner, you probably put your automatic sprinkler system into the same category as your home's heating and cooling system. You expect it to work reliably and efficiently with minimum fuss. The latest technology offers just that — and more. Automated Howell irrigation systems offer convenience while protecting your landscape investment. A…

Read More

Maintain & Upgrade Your System for Howell Irrigation

Irrigation systems in Howell need regular maintenance to keep them working efficiently year after year. Damage from lawn equipment or improper winterization can cause leaks and other serious problems. Inspect your system monthly. Check for leaks, broken or clogged sprinkler heads, and other problems. Clean clogged screens and microirrigation filters as needed. Adjust sprinkler heads.…

Read More

---
If you are looking for irrigation experts in the Oakland County area please give us a call 734-564-1373 or complete our online form.